A few weeks ago Alfresco released an application for iOS devices. It's available for free right now in the Apple App Store. If you've ever used Zia's FreshDocs, a mobile app that demos hitting an Alfresco repository via CMIS, you'll recognize a good portion of the functionality–Alfresco worked with Zia to build the app and they started with FreshDocs as a base.
The app is free and runs on iPad and iPhone. You can use the app against Alfresco repositories versions 3.4 and higher for all three editions of the product (Community, Team, Enterprise).
You can use the app to browse content that lives in Alfresco, whether that content is stored in the "Company Home" part of the repository or in document libraries within Share sites. The UI is currently a single pane view but there is a multi-pane view in an upcoming release. Aside from navigating to the content you can also execute file name and full-text searches.
This is what the app currently looks like when you log in to an out-of-the-box Alfresco 4.0a install. (Click to enlarge).

The 1.0 version is mostly read-only. As you click on content in the repository it is downloaded to the device for viewing. Here is what it looks like when you open an image (one of the sample invoice images included in the 4.0a sample Share site), but obviously you can open any file your iOS device knows how to deal with. (Click to enlarge).
You can create new objects by adding images from the photo library. Or, use an app like iWork or QuickOffice to check in a document via WebDAV. In fact, you don't need to install the app to do that if your iOS app can save to WebDAV. You can create folders and you can create comments on documents from within the app. Here's what it looks like when you create a new object from within the app. (Click to enlarge).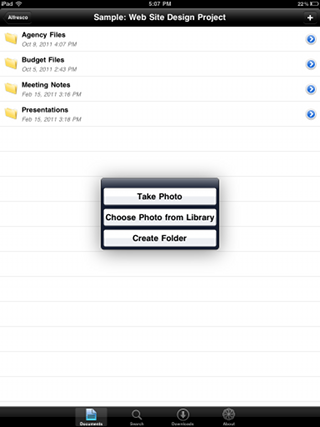 There is some debate internally about how much content creation needs to be done on the iPad. Right now, our goal is not to re-create the entire Share client in the iPad app. But I do think that some creation/editing would be helpful, even in very basic use cases. For example, right now, the app cannot:
Edit metadata, including the folder name of a folder you just created (argh!)
Add tags to an object
Upload new versions of an object
I've created a thread in the new mobile sub-forum on forums.alfresco.com to discuss this topic. If you feel strongly about it one way or the other, join the discussion.
There are some other limitations that I imagine will be resolved in the upcoming releases such as the ability to search by tag and displaying additional metadata (both out-of-the-box and customer-specific content models).
Don't get me wrong–I'm not slamming our new mobile app. I'm extremely excited about this first release and I know it is going to evolve quickly. There are lots of businesses, schools, and universities doing massive iPad rollouts right now. I really think we have an opportunity here to help add value to these rollouts by extending their Alfresco-based content to the devices in a secure way.
A lot of people I've talked to about the app have asked, "What about Android?" and "What about HTML5?". In short, the answer is that we've only got so many resources so we decided to go native on iOS as a first cut to get something to market quickly. If you are looking for an Android client for Alfresco there are some already in the community. Check out JM Pascal's Alfresco Content Center Android app, for example.
We'll be making the source of our app available as open source so you can use it as the starting point for your own apps. You can get more detail on that as well as a technical deep dive at our up-and-coming DevCon. Marc Dubresson, who comes to us from Apple, owns mobile for Alfresco and he'll be giving a talk in San Diego and London.