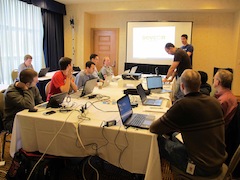 Sometimes it just takes an excuse to get away from your day job to find time to focus on that coding project you've been meaning to get to but haven't been able to start. This year, why not let Alfresco Summit be that excuse?
Last year the hack-a-thon was hugely productive, thanks in large part to our facilitator, Nathan McMinn. We had a room full of Alfresco hackers working on a variety of open source projects. You can see the list of projects that the crew worked on here. Nathan is going to lead us to greatness again this year in Barcelona and Boston.
So here's the plan: Sign-up for the Hack-a-Thon (Barcelona, Boston). Bring your entire team to Alfresco Summit a day early. Send the ones who are new to Alfresco to one of three training courses being conducted on-site. The rest of you can spend the day hacking the next cool Alfresco Add-on alongside other experienced Alfresco partners, engineers, and other community members. We'll keep everyone hopped up on coffee and snacks. At the end of the day, everyone gets back together at the Welcome Reception to swap stories.
You get your coding fix and the Alfresco community gets some cool new open source projects. Seriously, what's not to like about this plan?