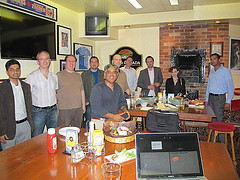 The months leading up to Alfresco Summit are typically popping with meetup activity and this year is no exception. I thought I'd give you a quick rundown of the Alfresco meetups I know about that are coming up this month and next month:
If you've never been to an Alfresco meetup, you're missing out on a wonderful chance to hear first-hand from people just like you who are implementing Alfresco in their companies. These local communities vary greatly. Some meet very regularly, others not so much. Some lean towards the technical end of the spectrum while others are more focused on end-users. Often there is a formal agenda with one or more talks. Other times the goal is to spend time chatting over drinks.
Regardless of the style of the local Alfresco community in your geography, these principles hold true across all of them:
Everyone is welcome. If you are interested in Alfresco, for whatever reason, we want you to participate. It doesn't matter which product you use, whether or not you are a partner, or what your experience level is. Ours is a friendly, welcoming community online as well as in-person.
You get out of it what you put into it. Most meetups are run by the local community. Organizing the meetings, finding people to speak, and finding a location all takes time and energy. So find a local community in your area, attend, and ask the organizer if you can help with the next one (even if the organizer works for one of your competitors).
These aren't sales events. Sure, the group might have one or more sponsors who paid for the food or supplied the venue, and they should get a few minutes to say who they are and let people thank them for their much-needed support of the group, but these meetups are for learning, sharing, and socializing. I haven't heard of any problems in this area–I just want you to know our meetups are intended to be hard-sales-pitch-free zones.
If you are thinking about starting your own meetup and want some tips, take a look at Amy Currans' Lightning Talk from last year's DevCon.
If hosting your own Alfresco meetup is too much of a commitment for you at the moment, find an existing one and show up. I think you'll have fun, you might learn something, and you'll meet some really cool people. At the very least, you might walk away with some coveted Alfresco footwear. (Seriously, ask around).
I hope to see you at one of these meetups before Alfresco Summit!