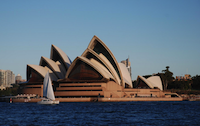 Crikey! Alfresco Day Sydney is almost here. On Thursday, August 22, I will be with the local Alfresco Sydney team at the Sydney Harbour Marriott Hotel. We'll be doing a day long meetup aimed at both business and technical audiences. We want to show anyone who is interested what Alfresco has to offer.
I'm hoping to see strong representation from customers, partners, and other community members. I want to get you all talking to each other about how you are using Alfresco, what's worked, what hasn't, and what we can do to help you be more successful with the platform.
I'll be giving talks on CMIS, developer fundamentals, and how you can get involved with the Alfresco community. We'll also have talks from Alfresco customers and partners.
If you haven't signed up already, you can do that here. I look forward to seeing you in Sydney!