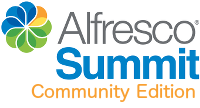 Earlier this week, in a post to a public mailing list, Ole Hejlskov, Developer Evangelist at Alfresco, announced that the company will not be putting on its annual conference, Alfresco Summit, this year as originally planned. Instead, the company is focusing on smaller, shorter, sales-oriented events which have been very successful in several cities around the globe.
Ole said that Alfresco will be adding developer content to its Alfresco Day events, which have historically been mostly end-user and decision-maker focused. In contrast, Alfresco's yearly events started out as developer-focused conferences, but in recent years had a more balanced agenda with both technical and non-technical tracks.
Alfresco had announced earlier in the year that their annual conference would be in New Orleans in November. In each of the last five years the company put on two conferences–one in Europe and the other in United States. For 2015 the plan was to have a single conference only in the U.S. which drew criticism from the community that skews heavily toward a non-U.S. demographic.
When the community realized Alfresco Summit 2015 would be held only in the U.S., an independent community organization called The Order of the Bee began making plans to hold their own conference in Europe. Alfresco says it will support the community's efforts to hold its own event and wants to explore "…ways in which participation from Alfresco corporate makes sense".
I understand where Alfresco is coming from. Annual conferences are expensive in both real dollars and the time and attention it takes to plan and execute. When you multiply that times two it obviously represents an even bigger investment.
You also have to look at what Alfresco gets out of the conference. Alfresco is increasingly sales-focused. The conference has historically been focused on knowledge-sharing and camaraderie. Yes, there were deals closed at Alfresco Summit but it was not geared towards selling. It was more about coming together to share stories, good and bad.
The Alfresco Day events are unabashedly sales and marketing. The attendees (and they get very large turnouts) know this which means Alfresco does not have to apologize for coming off too sales-y. Multiple cities with hundreds of prospects is a better investment for them than two cities with 1400 attendees who are existing customers and community members.
As the guy who led DevCon and Alfresco Summit and together with my team grew it year after year, it is weird to see Alfresco cancel the conference for 2015. I was looking forward to attending.
As a member of The Order of the Bee, I'm intrigued by the challenge of using an all-volunteer organization to potentially put together a replacement conference of some sort. If you have any interest in helping and you did not see my email to the mailing list, we'll probably be meeting next week to get organized. Reach out to me and I'll add you to the invitation.