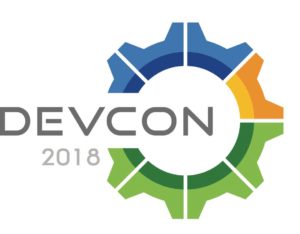 Encouraged by the success of the independently-organized, developer-focused BeeCon conference, and seeking to continue its renewed focus on developers, Alfresco has decided to resurrect its own annual developer-focused event. This week Alfresco announced that DevCon will be held January 16 – 18 in Lisbon, Portugal.
Alfresco had previously given up on big, annual events, deciding instead to focus on smaller, one day events in local markets around the globe. These were primarily sales and marketing events focused on lead generation and did not include an open call for papers.
When the annual events were discontinued, the community stepped in. The Order of the Bee, a global community of Alfresco enthusiasts independent of Alfresco Software, Inc., held two successful conferences in 2016 and 2017. These were low-budget, non-profit affairs with a very high signal-to-noise ratio.
Despite being organized independently by the community, the Order of the Bee events were still heavily supported by Alfresco. The company paid for high-level sponsorships and sent many engineers, John Newton, and other staff to give talks at both Order of the Bee conferences.
The company's interest in annual events isn't the only thing to have come back around lately. In the early days, the company was very focused on developers. The repository was pitched as a key foundational technology to content-centric applications. Over time that focus blurred as the company tried to move up-market towards "solutions" and the marketing focus turned to business buyers. But the pendulum has swung back again, centered mainly around the Alfresco Development Framework, a set of components meant to make it easier for developers to build content and process centric applications. So it is no surprise that Alfresco would be interested in being the primary driver behind an annual developer-centric event.
The resurrection of DevCon by Alfresco should be good for the community as long as the event is able to hold on to its community and developer focus. They have invited The Order of the Bee to help with conference planning, so that will help. And, the community and developer outreach functions within Alfresco are now held by many former community members so that also increases its chance of success, at least from a community perspective.
The Alfresco community has always been strongest in Europe. For now, Lisbon is the only date announced. If it is successful, it's possible we could see a North American date later in 2018, or perhaps they will alternate continents every other year.
The Call for Papers is open now. But if you want to speak, you'd better hurry. The deadline for submissions is Monday, October 23, 2017.