I think this is kind of cool. It's a map that shows the Alfresco English-language forums users.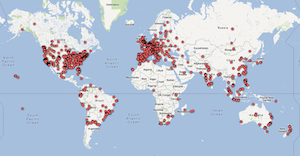 (Click to enlarge)
I love how global our community is! If your location isn't represented, it is because either I couldn't look up your location by IP address or you don't have your location set in your forum profile. Telling us a bit about who you are is useful beyond map-making–it can help with event planning, for example. And maybe you'll find someone nearby with similar interests. So why not update your location while you're thinking about it?
Looking at the map, I guess my biggest question is: What gives, Iceland? You keeping all of that good Alfresco knowledge to yourself or what?
While I'm on the subject, I should probably mention that the top users in terms of number of posts for March were (in alphabetic order):
AFaust
Andy
Ashex
BillyBoy
MikeH
billerby
jordiv
jpotts
mitpatoliya
mrogers
Thank you!
And, if you are looking to help make a dent in unanswered posts, the top forums in descending order of unanswered posts are:
Unanswered posts were below average in February and March, which is great, but there is still room for improvement.