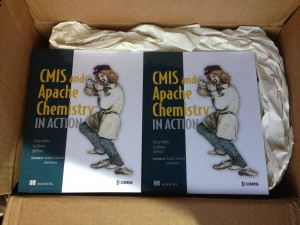 I am very pleased to announce that the book project I have been working on with Jay Brown (IBM) and Florian Mueller (SAP) has finally reached the most important milestone in any such project: The book has gone to press. You should now be able to purchase CMIS and Apache Chemistry in Action at fine bookstores everywhere.
I'm extremely proud of the end result. This book is the most comprehensive, most helpful resource on Content Management Interoperability Services (CMIS) that exists. I hope it encourages developers everywhere to adopt the standard and leverage CMIS-based tools from Apache Chemistry as part of their content-centric applications, desktop tools, or server implementations.
If you aren't yet familiar, CMIS is an industry standard for working with Enterprise Content Management repositories (ECM) like Alfresco, IBM FileNet, Microsoft SharePoint, Documentum, Nuxeo, and others. Once you know the CMIS API and SQL-like query language you can work with any repository that supports CMIS.
If you happen to be at the O'Reilly Open Source Convention (OSCON) in Portland, Oregon today, Jay, Florian, and I will be hanging out in the Apache Software Foundation booth starting at 5:00p and we will have books for a lucky handful of folks. If you miss out on that, Manning is running a Deal of the Day promotion today. You can get 50% off the book with code dotd0723tw.
Writing a book is a seriously tough project. I was lucky I didn't have to do it alone this time and even luckier still that Jay and Florian are top-notch experts in CMIS, great writers, and just a pleasure to work with. Thanks, guys!