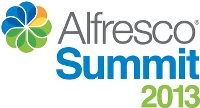 It looks like some of you have already taken advantage of the fact that registration for Alfresco Summit 2013 went live yesterday. I guess our "Can't Wait!" rate is aptly-named!
We've updated the web site with a high-level agenda, training course descriptions, hotel and venue information, detailed pricing, and, of course, the registration form (Barcelona, Boston).
Regarding pricing, note that we are doing something a little different this year. Instead of having a single early-bird period we're having multiple price breaks leading up to the event. The biggest savings happens now through mid-July and then the prices start to go up until we eventually reach the full-price rates.
Networking with others in the community, talking to industry visionaries and Alfresco Engineers, and taking some time to look at your ECM implementation from a new angle are all great reasons to come to Alfresco Summit. But I think the biggest benefit that justifies the cost of the conference, travel, and time away from work is the great content.
If you've been to past DevCons you know that this is an information-dense event. That will be the case again this year. To help make that happen, we rely on our passionate community of customers, partners, employees, and other members of the ecosystem to come to the conference and share their story with the rest of us, whether that's a full-length session or a lightning talk. If you would like to speak, there is still time. You have until June 15 to get your proposal turned in.
Alfresco Summit is the must-attend event for anyone doing anything with our software. Do not wait to register because I want to see you there, have a chance to shake your hand, and thank you for helping make Alfresco the last true innovator in the ECM industry.